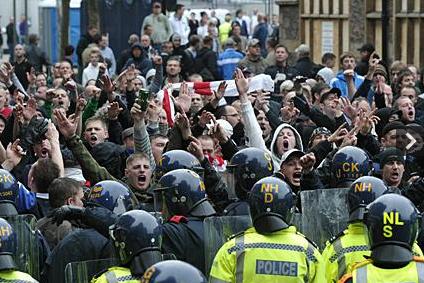 EDL protestors in Leicester, October 2010
Three men were sentenced yesterday for their part in the public disorder which accompanied the English Defence League protest in Leicester.
Two of the men, who denied having any official political affiliation with the EDL, were among a group hurling missiles at the international arts centre Fabrika, in Humberstone Gate.
Christopher Chapman (22), of Armdale Drive, Netherhall, Leicester, was handed a 12-week suspended prison sentence, by city magistrates. Unemployed Chapman pleaded guilty to causing £1,000 worth of damage to doors and windows at the venue and using threatening words and behaviour which caused people to fear for their safety.
Andrew Millard (27), of Bradmore Grove, Birmingham, was ordered to do 100 hours unpaid community work. Millard, who has a five-year banning order from football grounds for hooliganism, admitted a charge of attempting to damage the arts centre with a large wooden pole.
Ian Johnson, prosecuting Millard, said the group attacked the building after spotting members of the media covering last October's protest from first floor windows. CCTV cameras filmed Millard picking up a large wooden pole, throwing it at the building but missing.
Ryan Stapleford, of Ashby Road, Ibstock, was ordered to do 200 hours unpaid work in the community after admitting to launching a "flying kick" on a Muslim man on the afternoon of the EDL demonstration. The 18-year-old, who was filmed on CCTV attacking the man outside Benny's Chicken, in Granby Street, claimed he had been defending a friend who had persuaded him to accompany him to the protest.