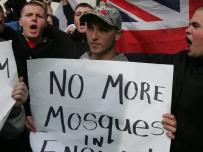 The controversial English Defence League have called off a planned demonstration against a proposed mosque in Walsall after learning that the biggest single group opposed to the scheme are Muslims. George Makin reports.
The anti-Islamic EDL had announced they would hold a demonstration on June 19 against a scheme to build a new place of worship in Vicarage Close which had previously been denied planning permission by the Walsall council.
Proposers of the development have announced their intention to appeal the decision.
The EDL's proposed demonstration led to a joint statement by the leaders of all three party leaders on Walsall council, fearful of a repeat of violent clashes which have occurred at other EDL events, that the rightwing group was not wanted in the town.
During negotiations with police EDL organiser were surprised to learn the original planning application had been opposed by many Muslims in Walsall who claim there are enough mosques in the borough already.
The EDL are now planning for a demonstration in Dudley on June 19 and for another in Alum Rock in Birmingham at a later date.
---
The mosque the EDL were intending to protest against is the one the Ahmadiyya Muslim Association is hoping to build, planning permission for which was denied by Walsall Council last December. The Ahmadis have appealed to the Planning Inspectorate and a decision is expected in the summer.
The Muslims who campaigned for the council to reject the Ahmadis' application did indeed do so on the formal grounds that there are "enough places of worship in the area", along with complaints about potential traffic congestion. However, as Inayat Bunglawala pointed out at the time, the real reason was obviously orthodox Muslim hostility to the Ahmadis, who are regarded as a heretical sect.
I have to say, the paranoid thought did cross my mind that the EDL might be able to find one or two Muslim opponents of the mosque whose hatred of the Ahmadis might lead them to ignore the EDL's racist ideology and support the protest. But that was giving too much credit to the intelligence of the EDL. They are, after all, a gang of mindless Islamophobic bigots who can't tell an Ahmadi from a Sunni, or a Sunni from a Shia.