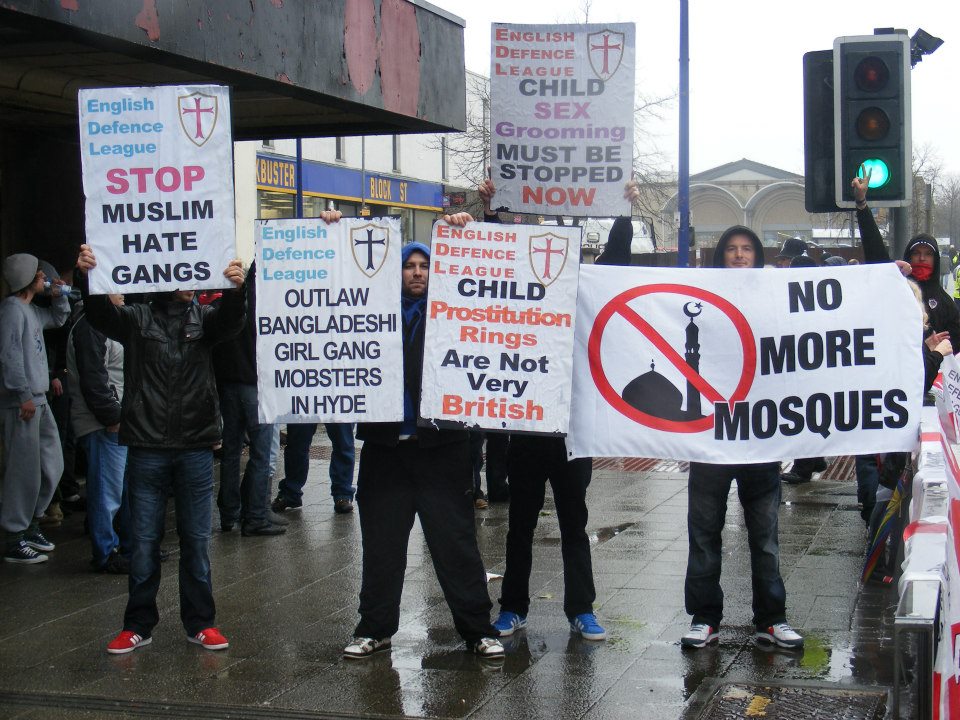 A protest by a right-wing group and anti-fascist campaigners passed off peacefully this afternoon.
Members of the English Defence League (EDL) from across the South of England descended on Plymouth after the owner of the Dance Academy claimed he was thinking of handing the property over to a charity to be turned into a mosque.
About 25 EDL members from as far away as Bournemouth and Weymouth staged a two-hour protest outside the former New Palace Theatre in Union Street. They were confronted by a about 25 members of Unite Against Fascism (UAF).
Twenty-five police kept the two groups separate, and they were able to hurl nothing more dangerous than insults and chants. Chief Inspector Dan Evans said there had been no arrests.
"We had good liaison in advance with the EDL and UAF and with members of the local community," he said. "We've tried to use local officers where we can to provide reassurance to the local community."
EDL organiser Gary England, from Bournemouth, said the building was "steeped in history" and should not be turned into a mosque. "If this building does become a mosque then you invite oppression."
A UAF organiser who wanted to be known only as Hayley said: "We don't want people thinking the EDF is representative of Plymouth. We don't want to be branded a racist city."
Fears that the demonstration might be a rerun of 2011's marches, which saw about 300 people on the streets of Plymouth, were unfounded.
The protest was sparked by Manoucehr Bahmanzadeh, owner of the Dance Academy, after a council licensing committee revoked his licence earlier this year.
Mr Bahmanzadeh told The Herald then: "It's not my plan to open the club as a club. There are charities who are after it. I'm considering giving it away for a charity. I'm very much considering giving it to an Islamic charity to turn it into a mosque."
The Union Street club has remained closed since a police raid in May 2006.
Plymouth Herald, 13 April 2013
Among the EDL members who organised the protest was Hayley Wells, who was recently given a 3-month suspended prison sentence for her leading role in a drunken mob who in July 2011 following an earlier anti-Muslim protest in Plymouth attacked a kebab restaurant, chanting "EDL, EDL" and what was described as "vile racist abuse".
Yet Plymouth EDL has the nerve to repeat the familiar mantra about not being racist or violent.
As for Wells, following the violence in 2011 the EDL leadership issued a statement announcing that she had not only been removed from her position as regional organiser but had also been "expelled from the EDL permanatly" (sic).
But that was back in the days when the EDL was trying to project a more respectable image with the aim of winning mass support. Now, with attendance at its protests having shrunken dramatically, the EDL is happy to accept anyone who'll turn up on a demonstration. Neo-Nazis, white supremacists, convicted racist thugs like Wells – they're all welcome.