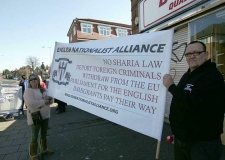 Far-right activists turned against one another as they protested against a mosque in Dagenham on Saturday.
Protesters believed to back the English Defence League (EDL) confronted the English Nationalist Alliance (ENA), which staged its latest protest against the Muslim place and worship and community centre in Green Lane.
Both groups say they want to fund a judicial review in the High Court to try to overturn a council decision which gave the centre the go-ahead despite more than 1,300 objections in January.
Protesters were segregated on either side of Green Lane as police supervised the demonstrations.
The ENA said it had cancelled a meeting about the judicial review, due to take place tonight, because of Saturday's confrontation.
An EDL spokesman said the counter demonstration was not organised centrally, adding the organisation did not oppose the ENA but merely did not want to be associated with its members.