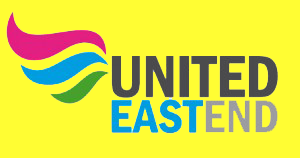 Hundreds of protesters stood in silence at a rally in East London last night with raised flowers to remember the 76 people killed in the Norway massacre by the self-confessed bomber Anders Behring.
The rally, calling for the Home Secretary to ban a proposed march by the English Defence League through Whitechapel, came at the end of a day when a delegation led by the Mayor of Tower Hamlets and the new Bishop of Stepney met the Norwegian ambassador and signed the Book of Condolence.
"I know the dangers of extremism has been in your minds in the aftermath of the horrors committed in Norway," Mayor Lutfur Rahman told the 300-strong rally. "I know your heart will have been moved by the grieving of the Norwegian people. So I was proud and saddened to go to the Norwegian embassy with faith and community leaders to offer condolences and solidarity from the people of Tower Hamlets."
He has written to Theresa May urging police to use their powers to stop the EDL coming to Whitechapel, adding yet more weight to calls for a ban from MPs, councillors, London Assembly figures and church leaders.
Norwegian trade unionists flew to London from Oslo to speak at the rally staged at London Muslim Centre along the Whitechapel Road – where the EDL plan to march on September 3.
The Bishop of Stepney, the Rt Rev Adrian Newman, in his first public engagement since his inauguration last Friday – ironically on the day of the Oslo massacre – was cheered when he told the rally: "I've already been criticised for standing shoulder to shoulder against fascism. But I stand with the people of the East End – this is no place for hate."
East End Advertiser, 30 July 2011
See also Robert Lambert, "Londoners United Against the EDL", Huffington Post, 30 July 2011
Update:  See "Hundreds pack East End rally in run-up to 3 Sept demo against EDL", UAF news report, 30 June 2011