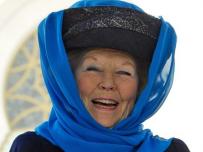 Dutch Queen Beatrix has dismissed as "nonsense" criticism of her decision to wear a head scarf during a recent visit to a mosque in the United Arab Emirates.
National broadcaster NOS reports that the queen's unusually forthright comment came Thursday in Oman to Dutch reporters covering her state visit this week.
She was responding to questions from reporters about parliamentary questions filed by anti-Islam lawmaker Geert Wilders, who called the monarch's decision to cover her head on a visit to a mosque in Abu Dhabi on Sunday "a sad exhibition" that "legitimizes the oppression of women."
It is rare for the queen to respond so directly – and dismissively – to criticism from a political party in this nation where the unelected head of state's role is largely ceremonial.
Associated Press, 12 January 2012
See also BBC News, 12 January 2012