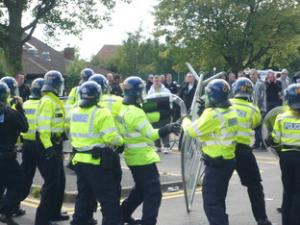 Police are still trying to disperse pocket groups of EDL members who are still in the town centre following today's protests.
Trouble again flared following a seemingly calm protest of around 500 gathered English Defence League protesters, who converged on Stafford Street. At around 3.30pm, as the protest finished, some members flooded out of the car park and began a further stand off with police, as they began loading on to their coaches.
Despite EDL leaders promising today's protest would be peaceful, a group of around a couple of hundred supporters tried to get down The Inhedge, as they tried to make their way into the town centre and the Unite Against Fascism counter protest.
Twenty people have been arrested for offences including possessing an offensive wapon and disorder, as security fencing was pulled down and a drainpipe was ripped off the wall of the nearby solicitors as police dogs were bought into to control the unruly crowds who were shouting abuse at officers and journalists.
Police are also investigating reports of damage to the Hindu temple.
The police helicopter is currently in operation as police track the groups, which is causing traffic chaos and gridlock throughout the town centre.
See also "Council leader condemns 'pointless' protests", Dudley News, 17 July 2010
During the course of the afternoon, EDL supporters tried to further stir up the situation by spreading rumours that a protestor had been killed, two had been stabbed, Muslims had driven a car into a crowd of EDL demonstrators, a coach driver had been attacked with a machete, the EDL were under threat from "Muslims hunting in packs", police were using tasers against demonstrators, EDL supporters had been left "laying in pools of blood", etc. etc.
Update:  See "Racist EDL brings violence to Dudley", UAF news report, 17 July 2010
Further update:  See "Violence erupts in Dudley as English Defence League protest mosque plans", Birmingham Mail, 19 July 2010