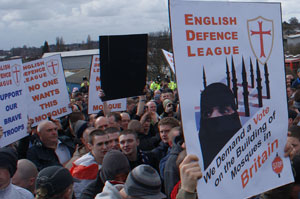 Plans for a new mosque and community centre in the West Midlands have been turned down for the second time. Dudley Council refused permission on Monday for the buildings, which would feature a 35ft (10m) high minaret.
Dr Kurshid Ahmed, chairman of the town's Muslim association, said the decision was "Islamophobic". The council said its decision was based solely on planning reasons as the scale and design of the building would be out of keeping with buildings in the area.
The council originally refused outline planning permission for the Hall Street mosque in February 2007 on the basis the land had already been designated exclusively for employment use under the council's unitary development plan. A planning inspectorate overturned the council's reason for refusing outline planning approval in July 2008. The council fought the decision in the High Court in July 2009 and lost.
Full plans for a mosque and community centre went before Dudley planning committee on Monday night but were rejected.
Dr Ahmed said: "Obviously I am disappointed but certainly not surprised because decisions in Dudley planning committee are driven by the influence of bigotry, racism and Islamophobia." Dr Ahmed said he was aware that the proposed buildings had been described by some councillors as "an alien feature" and "a blot on the landscape".
He added: "There's not really any planning consideration as the two comments that you've just referred to suggest, so it is a decision based on people's prejudices against Islam. They don't want to see a mosque or they see it as a blot, they see it as completely out of character, which means that they are still living in some historical context and don't see the globalisation of today and Dudley as part of that."
Dr Ahmed said it was evidence that council policy was being determined on the basis of anti-Muslim prejudices and described it as "institutional Islamophobia".
See also Dudley News, 20 September 2011
Update:  Kurshid Ahmed's charge of Islamophobia is reinforced by the news that Gavin Boby of the far-right Law and Freedom Foundation (aka "Mosquebusters") is involved in the anti-mosque campaign. For details see here, here and here.