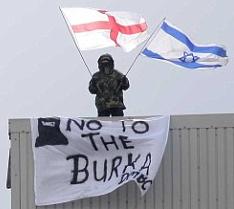 The leader of Dudley Muslim Association has accused the English Defence League of provoking religious hatred over his group's plans for a new mosque in the town.
Chairman Dr Khurshid Ahmed said far-right protesters, who staged a mock call-to-prayer in a rooftop protest on Monday, had been "un-English" in their lack of respect for the law.
He said: "This was not a protest – this was wilful incitement to religious hatred by playing that loud call-to-prayer. The people of Dudley have nine mosques and have never experienced a call as loud as that – or anywhere in Britain. Our call to prayer can only be heard within the parameters of the mosque."
Dr Ahmed said the truth had been distorted for political ends over the planned mosque in Hall Street, which Dudley Council challenged unsuccessfully in the High Court. And he said misinformation had been spread about the cost and scale of the project, which he claimed had been wrongly dubbed a "super-mosque".
The Association said it had always been open in speaking to Dudley Council officials about possible alternative sites, and admitted the authority had brought a new proposal to the table. But the plan for the new mosque has not yet been formally scrapped, the Association confirmed. It is understood the council is suggesting an expansion to the current mosque in Castle Hill.
See also "Men in court for EDL rooftop protest", Dudley News, 5 May 2010
Update:  See "English Defence League protesters appear before Dudley magistrates ", Sunday Mercury, 6 May 2010