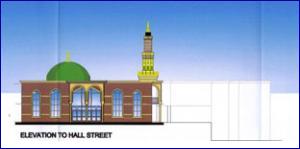 Plans for a mosque and community centre on land in Hall Street, Dudley have been rejected by Dudley Council planners.
Members of the Development Control Committee unanimously refused the application for Dudley Muslim Association to build the mosque. Despite last minute alterations and changes to the design by the applicant, councillors still slammed the multi-million pound proposal, calling it "characterless", "featureless", "inappropriate" and an "alien feature".
However councillors did agree to extend the time limit for the previous application, which means the DMA have a further three years to submit more plans.
Speaking about the decision following the meeting, DMA spokesman, Mushtaq Hussain, said he was "very disappointed" with the outcome. He said the DMA would now need to consider whether they would lodge an appeal against the decision, which he believed would be likely. But he added the architects would also be going back to the drawing board to look at further plans.
Dudley News, 19 September 2011
See also "Mosque plan refused amid wave of protest", Express & Star, 20 September 2011
And "Plans for new mosque in Dudley rejected by council", Birmingham Post, 20 September 2011
Update:  Needless to say, the English Defence League are chuffed to bits about this further setback for the DMA.

Last year the EDL organised two demonstrations in Dudley against the proposed mosque – one of which ended in a riot, while the other resulted in an attack on a Hindu temple. In between, a rooftop protest at the intended mosque site was staged by two EDL members – UDA supporter Leon McCreery and raving antisemite John "Snowy" Shaw. Only a couple of months ago EDL supporters were posting comments on the EDL Facebook page threatening to bomb the mosque if construction went ahead. So you can see why the EDL are proud of their record.