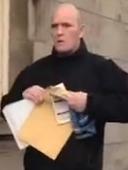 A man arrested in connection with an EDL protest against a newly-approved mosque has been fined after he admitted swearing at riot police.
Gary Donaldson, 32, had been drinking at the Chesters Pub in Chester Road in Sunderland, when he was confronted by officers with video cameras.
Sunderland Magistrates' Court heard how Donaldson screamed expletives into the camera and became aggressive towards the officer holding the device. He was one of 13 people arrested during the protest on October 6, 2012.
Representing himself at the short hearing, Donaldson, of Frederick Street, Seaham, pleaded guilty to drunk and disorderly on Friday October 26. He was fined £35, and ordered to pay a £20 victim surcharge as well as £85 costs.
Around 200 people were involved in the demonstration on St Mark's Road, which saw members of far-right groups including the English Defence League and National Front clashing with anti-fascists and members of the Muslim community.
Scores of police armed with batons were called in as the disorder escalated, and a firecracker in a glass bottle was seen being thrown at officers.
Eight men arrested on suspicion of public order offences and another three arrested on suspicion of affray are on bail pending further enquires.