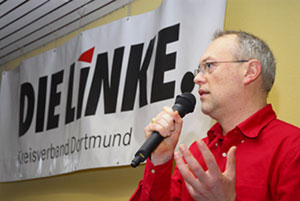 A regional politician has been fined €1,500 or 50 days in jail for allegedly calling Thilo Sarrazin, the author of a controversial book criticizing Muslim immigrants, an "ass."
Helmut Manz, 43, the deputy spokesman of the opposition Left Party in the western state of North Rhine-Westphalia, was overheard uttering the word at a demonstration outside a convention hall in the city of Dortmund where Sarrazin was speaking. Sarrazin filed a legal complaint when he heard about the insult.
The demonstrators were holding up a straw doll with a photo of Sarrazin's face stuck on it. Manz has appealed against the ruling by the Dortmund district court, the Left Party said in a statement.
In an interview published on Tuesday, he told the mass-circulation Bild newspaper: "I'm not aware of having said that. It wasn't in my notes." But he added: "All racists, which therefore includes Mr. Sarrazin, are assholes."
Manz has said he plans to opt for the jail sentence if his appeal is overruled.
Spiegel Online, 1 February 2011
No doubt all those Islamophobes who loudly oppose any restriction on freedom of expression when it comes to inciting hatred against Muslims will be vociferous in their condemnation of Sarrazin's attempt to suppress Helmut Manz's right to free speech.