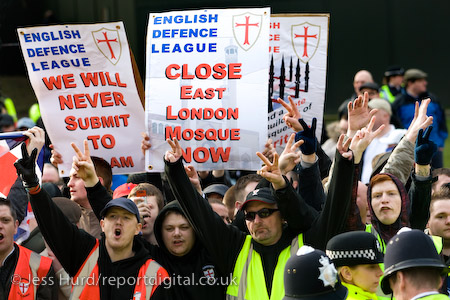 The English Defence League plans to whip up racism against one of Britain's largest Muslim communities. It has announced plans to gather in Tower Hamlets, east London, on Sunday 20 June.
Unite Against Fascism and East End United have organised a national counter-demonstration with backing from local activists, the council, campaigners and mosques. The momentum is on the side of the anti-fascists. The EDL were heavily outnumbered in Newcastle recently and were sent packing in South Wales last week. EDL demonstrations have been getting smaller.
But there must be no complacency. Local trade unionists, anti-racist activists and campaigners sent an open letter to the Guardian newspaper and local press within days of the EDL's plans becoming known. It reads, "The English Defence League is a violent, bigoted organisation. They should be condemned everywhere, but will be particularly unwelcome if they come to Tower Hamlets."
Glyn Robbins, the local activist who organised the letter, toldSocialist Worker, "We have seen how destructive the EDL presence has been in other towns and cities. Now they are coming to our city, to our borough. We have a strong tradition of standing up to racism and fascism in east London – a tradition that goes back to the 1930s when people fought off Mosley's fascist blackshirts. If the EDL comes here without being opposed, then they can go anywhere. We have to do every­thing we can, in every way, to oppose them."
Musaddiq Ahmed, secretary general of the Tower Hamlets Council of Mosques, told Socialist Worker it is vital to defend Tower Hamlets multiracial and multifaith tradition.
He said, "We are black, white and Asian – Muslim, Sikh, Jew and Christian – people of all faiths living together. We live in an area where the east London mosque sits side by side with a synagogue – we are proud of the diversity in Tower Hamlets. It would be a disaster if the EDL come here. The EDL wants to use the recent rise in Islamophobic attitudes to paint a distorted picture of Islam in order to divide our communities."
Socialist Worker, 12 June 2010
See also "Joint statement says: Keep the racist EDL out of east London!", Unite Against Fascism, 7 June 2010