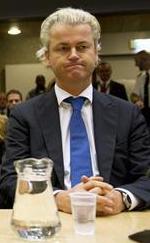 Muslims in the Netherlands say that remarks by politician Geert Wilders have poisoned attitudes toward them, making them feel unwelcome and at risk, according to complaints disclosed at his hate speech trial Wednesday.
"My family and I no longer feel safe in the Netherlands because Mr. Wilders is continually making hateful remarks about Islamic Dutch people," said one complaint read out by the judge. "It's getting scary…. Soon the kids won't be able to say that they're Muslim or half-Moroccan," wrote the citizen, whose name was not released.
Dozens of similar complaints filed with public prosecutors eventually led them to file charges against Wilders, citing frequent statements he has made comparing Islam to Fascism, calling for a ban on Muslim immigration and for banning the Quran.
Wilders is charged with inciting discrimination and hatred and with insulting a people on religious grounds, punishable with up to a year in jail and a fine.
At Wednesday's hearing, the judges viewed Wilders' short film "Fitna," which juxtaposes Quranic verses with images of terrorist attacks to argue that Islam is an inherently violent religion.
Prosecutors initially declined to act on the complaints and press charges against Wilders. But an appeals court ruled there was sufficient evidence he has broken the law, and ordered prosecutors to bring a case.