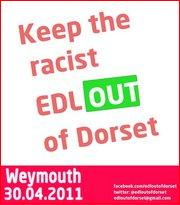 Dorset Police have announced they will be separating two protests being held on Saturday as concerns grow over anti-Muslim feelings in the town.
The English Defence League (EDL) is a right-wing group that is against Islamic extremism and "radical Islam's encroachment into the lives of non-Muslims" as well as the introduction of Sharia law into Britain. They announced a march after BBC3 screened a film about a former Weymouth lad who converted to Islam and was radicalised.
A peaceful counter protest will be held at the same time, 1pm, organised by people behind the Facebook page, Keep The Racist EDL out of Dorset, who are rallying people to join them in opposition to the EDL "bringing its hatred and violence to a diverse, tolerant Dorset".
Assembly points for both groups have been designated at either end of the Esplanade in Weymouth, with the EDL due to meet at the pier bandstand and counter-demonstrators opposite the Pavilion.
Lord Knight of Weymouth, former Dorset South MP Jim Knight, has penned a blog voicing his fears that the EDL are "a bigger threat than the BNP".
He says: "At a time of high unemployment, housing shortage and cuts to the welfare state we are particularly vulnerable to the rise of far right fascism. The possibility of that particular poison reaching somewhere as peaceful as Weymouth makes me anxious. That is why I will join others in publicly expressing our opposition to the English Defence League in Weymouth."