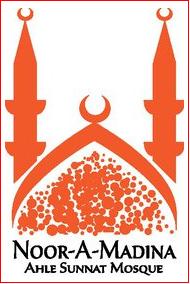 A community turned out in force to show their support for a mosque which has become the subject of an English Defence League campaign.
Members of the Noor-A-Madina mosque on Waterloo Road were joined by the North West branch of United Against Fascism, the Blackpool, Fylde and Wyre Trade Union Council and Blackpool Lesbian, gay, bisexual and transgender (LGBT).
All of the people present were there to show defiance to the EDL, a group which one UAF member claims is "trying to whip up racism".
The support groups gathered as members of the EDL were understood to be staging a protest amid claims the mosque was operating illegally and not inclusive to all members of society.
However, Natasha Shah, the owner of the mosque disputes these claims, which first surfaced on social networking site Facebook. She told The Gazette: "As far as I'm concerned the council knows about this and there's not an issue at all. We want to be part of the LGBT community. We are in the process of setting that up and I'm working closely with the vice-chair of Blackpool LGBT."
Paul Jenkins, from the North West UAF, said: "I'm here because I want to show my support to Natasha and it's important with the EDL trying to whip up racism. I wanted to show they don't represent the people of Blackpool."
Police attended, but no protest was held.
Blackpool Gazette, 12 July 2011
---
The report concludes with a quote from Liam Wood, the current head of the EDL's LGBT division, who lives in Blackpool. Wood comes out with the usual lying crap about having "no ill feelings" towards the people who run the Noor-A-Madina mosque and asserts that he is merely opposed to building "a super mosque in Blackpool". This from a leading figure in an organisation that campaigns for a ban on the building of any new mosque anywhere in the UK and whose supporters tried to attack a mosque in Cambridge during a protest there last Saturday.
Only a few months ago Liam Wood received a six-month suspended jail sentence after he admitted possessing cocaine with intent to supply. You can imagine what the response of the EDL would be if a leading figure in Blackpool's Muslim community was convicted of drug dealing. But the criminal convictions of EDL leaders are of course a different matter. Indeed, Wood has tried to justify his behaviour on the grounds that drugs are an essential part of LGBT culture!
Update: This notice of an EDL demo at Blackpool Town Hall on 14 July against Tasurraf Shah of the Noor-A-Madina mosque has appeared on the LGBT division Facebook page: