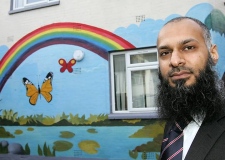 Newham Council are threatening to close a primary school in Forest Gate after just four months in a bitter dispute over planning permission.
Council officials have issued an enforcement notice against Alif Academy, an independent Islamic primary school that opened in September, claiming they do not have planning permission to operate as a school.
Headteacher Hasib Hikmat [pictured] said their planning application was blocked by the council's enforcement notice which has forced them into an appeals process after they spent £50,000 refurbishing the building. But the council and the headmaster both confirmed that the school, at 313-319 Katherine Road, is registered with the Department for Education (DfE) and gained approval from Ofsted.
Mr Hikmat, who has been a teacher for 14 years, said: "The council are saying that they know better about children's safety than the DfE and Ofsted who have issued us with documentation to say that the school is safe and they have very stringent rules. We are providing a good school that teaches the national curriculum with an Islamic ethos, it provides jobs, most of our teachers live in Newham, and we provide much needed school places for children in the area."
Meanwhile, the dispute has led to the council withholding a Nursery Education Grant giving 15 hours a week free tuition and entitlements such as free school milk which has left parents paying £1,010 a term. Shanur Miah, father of two children at Alif Academy, said: "Their treatment of the school has been bigoted and extremely prejudicial. I mean, it's one thing to have an agenda against an adult but to take milk away from children is just absurd."
An planning appeal hearing is scheduled for February 7.
Newham Recorder, 20 January 2012
See also the SAVE Alif Academy from Islamaphobic Council Facebook page.
A press release from the campaign can be read here and a brief history by headteacher Hasib Hikmat of Alif Academy's conflict with Newham Council here.
You do wonder about Newham Council's commitment to diversity. Last year Sir Robin Wales, the borough's executive mayor, decided to remove all foreign language newspapers from Newham's libraries, on the grounds that this would "encourage people to speak and learn English". The council also tried to close down the Tablighi Jamaat mosque in West Ham but its decision was overturned by the planning inspector.