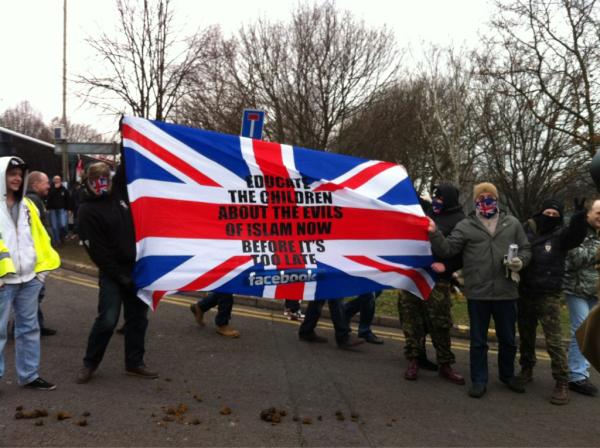 English Defence League protestors in Leicester, February 2012
Police have defended their handling of the English Defence League's march in Leicester earlier this year.
A national campaign group, the Network for Police Monitoring – Netpol – yesterday criticised officers' conduct toward people opposed to the EDL's presence in the city centre on Saturday, February 4.
The EDL marched through the city surrounded by police officers while their opponents, Leicester Unite Against Fascism, staged a march in a different area of the centre. No arrests were made.
However, Netpol – which trained a number of local people to monitor events on the ground – accused police of:
• Using unnecessary force against groups of predominantly Asian youths who arrived in the city centre after the two demonstrations had finished.
• Using stop and search powers only against black or Asian people. Official police figures show 15 people, all Asian, were stopped and searched.
• Surrounding groups of young people and escorting them out of the city – known as kettling.
• Allowing a small number of EDL supporters to stray off the march route they had been ordered to stick to.
The city council was criticised for urging young people to stay away from the city centre, stressing that unaccompanied youths could be detained and escorted home.
The Netpol report was published at a public meeting at the Highfields Centre, Leicester, last night. Its author, Leicester youth worker Saqib Deshmukh, said:
"There was not the same level of disorder as we saw on the previous occasion and this could reasonably be seen as a success for the police and the city council.
"But this came at a cost for young people, particularly young Muslims, for whom the city centre was a no-go zone, while there is a perception that the EDL came and went as they pleased."