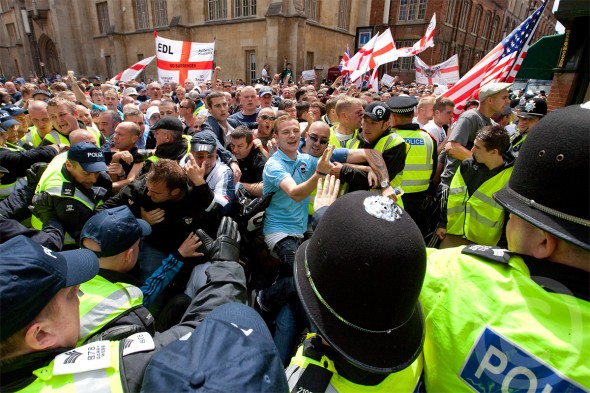 Members of the English Defence League (EDL) made a failed bid to target a Cambridge mosque after they marched through the city.
The incident came after a relatively peaceful march by the EDL through the city centre in which scuffles with police broke out along with bottle-throwing. Officers threw up a cordon around the mosque in Mawson Road and managed to quell the troublemakers.
Officers quelled some of the flashpoints sparked as around 200 EDL marchers were taunted by a small number of counter-protesters from an earlier 1,500 strong demonstration by Unite Against Fascism.
But members of the EDL, who arrived in coaches from across the country to Queens' Green, also began fighting amongst themselves.
After the march, members of the group attempted to reach the mosque in Mawson Road, off Mill Road. But they were stopped by dozens of police officers who then threw up a wall of steel to protect the scores of Muslims and their supporters
And at around 3pm, Muslims manning a community stall in Sidney Street were attacked by a group who picked up copies of Korans from the stall and hurled them at the victims – one of whom had his spectacles broken.
Richard Howitt MEP, who was a keynote speaker at the start of the counter-protest, praised police and described the emotional scenes in Mill Road when more than 1,000 anti-EDL protesters marched along the street.
He said: "I would say that many of the counter-protesters stayed around Petersfield thinking to protect the mosque but when all is said and done it was really the police who did a fantastic job throughout the day. As we all walked along Mill Road, shopkeepers were all standing outside their shops handing out samosas and drinks. I had a tear in my eye."
Ealier this week "Tommy Robinson" assured the people of Cambridge that they had nothing to fear from the EDL, which he described as "a structured, organised, peaceful protest movement".
Update:  See also "Magnificent 2,000 march against EDL in Cambridge", UAF news report, 9 July 2011