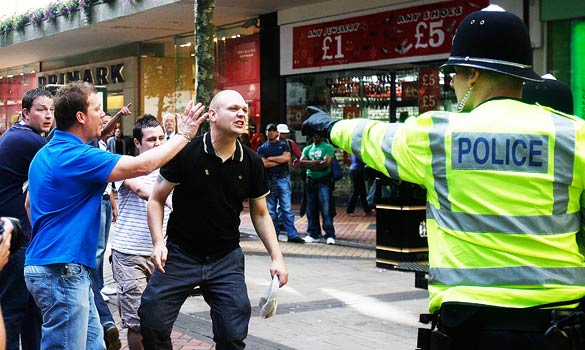 West Midlands Police have been urged to step in and ban a far right group from holding a march in Birmingham next month to avoid a repeat of the shocking scenes of violence witnessed earlier this month.
White nationalist organisation The English Defence League (EDL) and an associated group, Casuals United, are due to hold a rally against Islamic extremism in the city on September 5. Their first demonstration on August 8 ended with violence and bloodshed as supporters clashed with anti-racism campaigners.
One of those calling for a ban was Respect councillor Salma Yaqoob, who expected more street violence if EDL returned. "When it comes to public safety we have every right to intervene," she said. "But the 'just stay away' message we are hearing won't wash with today's Muslim youngsters who won't put their heads down and carry on walking when they are subjected to racist taunts – they will react and fight back."
Yesterday, those at a public meeting to discuss how the city should deal with the group's next visit voted unanimously that the police should have the demonstration banned. West Midlands Police were urged to join forces with Birmingham City Council to apply to the Home Secretary for a banning order under the Public Order Act. But a senior police officer said there were no current plans to do so as the EDL had a legitimate right to hold its march.
Birmingham Post, 24 August 2009
See also The Stirrer, 24 August 2009
Update:  Presumably in the interest of "balance", The Stirrer has decided to carry an interview with one Trevor Kelway of the EDL, who assures us: "We are not walking the streets in hope of violence, in fact, we naively felt that the only opposers to our demonstrations would be Muslim Fundamentalists as they are the ONLY ones we are demonstrating against."
Really? If Kelway and his gang of football hooligans are just protesting against "Muslim Fundamentalists" (by which he evidently means Anjem Choudary & Co) rather than against the Muslim community as a whole, how does he explain the statement on the Casuals United/British Defence Leagues site that "we dont want any more mosques in this country. They are funded by extreme Saudi groups and are part of the plan to Islamify Britain through brainwashing and terror"?