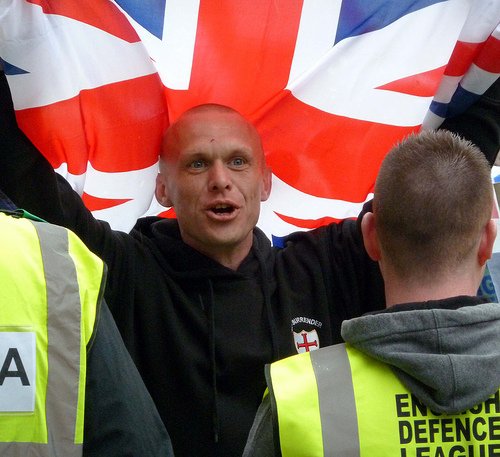 An independent candidate in the Rotherham by-election is a member of the far-right English Defence League who has criminal convictions,The Star can reveal.
Clint Bristow, aged 39, of Cantley, Doncaster, is one of 11 people standing in tomorrow's by-election caused by the resignation of Labour MP Denis MacShane over dishonest expenses claims.
Bristow is currently subject to a five-year conviction-related anti-social behaviour order, banning him from attending English Defence League marches after admitting a charge of threatening behaviour towards a man running a stall providing Islamic literature near Speakers' Corner, London, in October 2010. He served seven days in jail after not paying a fine imposed at Woolwich Crown Court last year for the same offence.
Also in October 2010, Bristow admitted possessing cannabis following his arrest at an EDL demonstration in Leicester that month. Leicester Magistrates fined him £100 with £85 costs.
Former soldier Bristow, who promotes the English Defence League on his election literature, said "left wing scum" was behind internet publicity about his convictions. He told The Star: "The incident at Speakers' Corner was in self-defence. EDL members were pinned in a corner by police and the Muslims were throwing things at us. I can't stand by and let people be attacked. I am a suitable candidate for Parliament – I'm a street lad and I know the people."
The Electoral Commission said ex-criminals cannot be barred from standing.
Although Bristow cannot officially stand for the EDL because it is not a registered political party, the EDL has stated that he is standing as their candidate, as has Bristow himself, while The Starreport confirms that he "promotes the English Defence League on his election literature".
As we have pointed out previously, Bristow's CRASBO prohibits him from participating in any EDL event without having notified Westminster police at least seven days beforehand. So unless he has informed them of all his campaigning activities in Rotherham a week in advance, then Bristow is clearly in breach of his CRASBO.
I understand that this has been raised with Westminster police, and it will be interesting to see what action is taken.