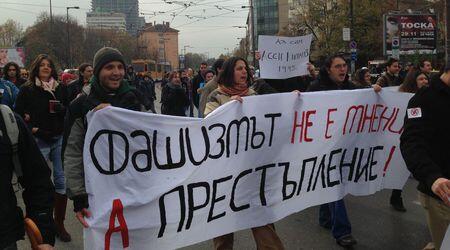 Scores of Bulgarians gathered in front of the National Palace of Culture in Sofia for a protest rally against a rising tide of xenophobia and far-right political activism in the country.
Summoned under the slogan "Danger! Fascism!", the march walked to the Palace of Justice at the other end of the Vitosha Blvd. Protesters, who as the rally went on, grew to several hundred, carried signs such as "Fascism kills, those in power hide," "Fascism is not an opinion but a crime," and chanted "No to violence!"
The rally is in response to a rise of violent acts against foreign immigrants and Bulgarians of non-Bulgarian ethnicity in the country.
Activists have warned of an imminent activization of fringe far-right structures, signaled by the founding end of last week of a new neo-Nazi party.
They have also warned against the rhetoric of nationalist party Ataka, who have their group in the current Bulgarian parliament.
Activists have also argued against media coverage which they say effectively presents such far-right phenomena as normal.