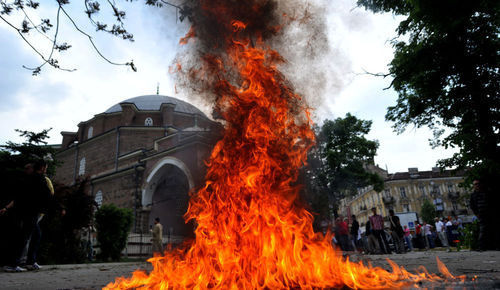 Prayer carpet on fire outside the Banya Bashi mosque on 20 May
The Bulgarian Parliament has condemned the actions of Volen Siderov and members of his ultra-nationalist Ataka party outside the Sofia mosque on May 20 2011, Bulgarian media reported on May 27. MPs from all parties present in the parliamentary sitting, with the exception of Ataka MPs who abstained, voted in favour of the declaration condemning Ataka's actions.
Blue Coalition co-leader Ivan Kostov, who was among those who introduced the declaration, went as far as to declare the actions of Siderov and his followers as a "threat to national security", Dnevnikdaily reported. "This declaration condemns the attempts of Ataka to undermine the religious peace and tolerance in Bulgaria," Kostov told Parliament, adding that the behaviour of Ataka on May 20 – on a holy day for Muslims, was "scandalous".
"This political party (Ataka) is isolating itself from Bulgarian democratic society. Its behaviour is deeply foreign to the Bulgarian people, who are religiously and ethnically tolerant," the declaration said.
"Following its aggression against the ethnic peace in the country, Ataka has become a threat to the national security of Bulgaria. We call upon all institutions to undertake necessary measures to uphold the law and the constitution," Kostov said, adding that all Bulgarian citizens, regardless of their ethnic or religious background, have equal rights which will be defended by the Government.
Meanwhile, Ataka MP Yavor Notev said in Parliament that they had "information" that although Ataka is not planning another demonstration outside the mosque on May 27, there might be people "pretending to be Ataka" who will probably hold a rally anyway to cause trouble, television channel bTV reported.
Ataka leader Siderov said that "an internal investigation" is currently underway to determine who torched carpets outside the mosque, as Ataka members "had nothing to do with this". "I never advocated physical violence or the destruction of property," Siderov said.
Three Ataka supporters were arrested and one of the party's MPs, Denitsa Gadzheva, was injured in the incident at the Banya Bashi mosque, which followed a protest by Ataka against the use of loudspeakers to broadcast the call to prayer on Friday May 20.
This was the latest in a series of protests which started some years ago against the loudspeakers, but Ataka has revived its campaign in the run-up to Bulgaria's autumn 2011 municipal and presidential elections, in which Siderov has said he will stand as a presidential candidate.
Scuffles broke out after one of the Ataka protesters tried to steer a column towards Muslims taking part in Friday prayers, Bulgarian National Radio said. Ataka supporters shouted "Ataka","Bulgaria", "Turks out" and "janissaries," eyewitness reports said. Protesters also threw stones and bottles at the mosque.
See also Novinite, 27 May 2011