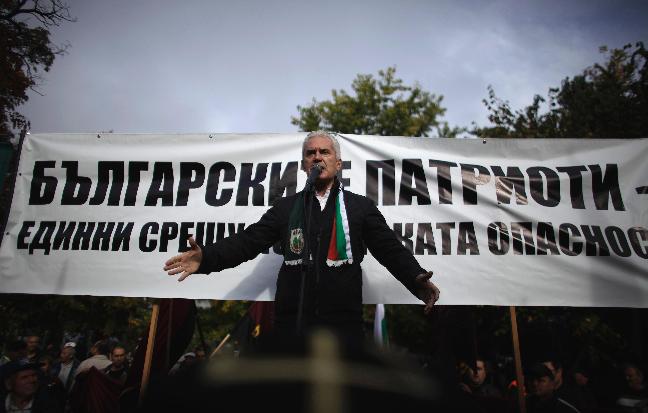 Volen Siderov, leader of the fascist party Ataka, addresses supporters in Pazardzhik
Hundreds of nationalists rallied in a southern Bulgarian town on Monday in support of the prosecution of 13 religious leaders accused of spreading radical Islam in a case causing communal strains in the Balkan country.
The trial, just months after a suicide bomber killed five Israeli tourists and a Bulgarian driver at the Black Sea port of Burgas, has tested a delicate ethnic balance between the country's minority Muslims and its Orthodox Christian majority.
Prosecutors in the southern town of Pazardzhik have charged 12 Bulgarian citizens, most of them Muslim prayer leaders, and one woman for preaching radical Islam between 2008 and 2010. Three of them are also charged with inciting religious hatred.
Protesters, led by far-right parties Attack and VMRO, waved banners reading "Our religion is Bulgaria" and "Tough sentences for fanatics", and said the march aimed to counter gatherings of Muslims in front of the courthouse in support of the accused.
The suspects, who deny any wrongdoing, face up to five years in prison if convicted. They are accused of working with an unregistered branch of Al Waqf-Al Islami, an Islamic foundation set up in the Netherlands and funded mainly by "Salafi circles" from Saudi Arabia, the court said, referring to an ultra-conservative brand of Islam.
About 100 Muslims also rallied near the court under heavy police protection in support of the accused, saying the 13 had preached only traditional Islam. Bulgaria's Mufti Office has also declared its support for the accused.
The trial has the potential to threaten a culture of tolerance in Bulgaria, where Muslims make up about 12 percent of the 7.3 million population, analysts said.
Bulgaria is the only European Union (EU) country where Muslims are not recent immigrants but a centuries-old local community, mostly ethnic Turkish descendants of Ottoman rule that ended in 1878.
"Trials like this could dramatically raise tension in the places where Bulgarian Muslims live," said Antonina Zhelyazkova, head of the Sofia-based International Center for Minority Studies.
The trial has revived memories of the 1980s when hundreds of Muslims were forced to change their names to Bulgarian ones and over 300,000 left the country as a result of a campaign by late communist dictator Todor Zhivkov to revive mainstream Bulgarian culture.
Nationalist parties are also trying to use the trial to gain popularity before a general election next year, analysts said.
See also "Divided Bulgarian xenophobes stage anti-Muslim protests", Novinite, 29 October 2012
Update:  See "Bulgarian Imams' trial resumes", Press TV, 29 October 2012