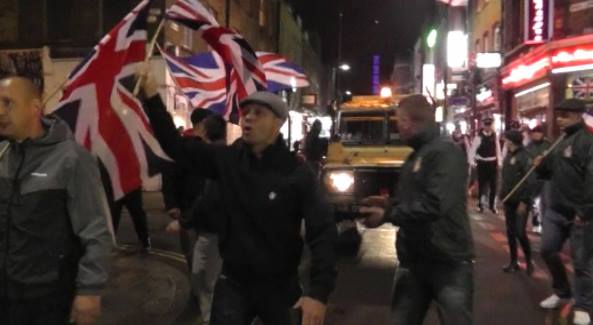 The far-right group, Britain First, marched down Brick Lane last night with a large camouflaged car as part of what they called a "Christian patrol".
The group said on their Facebook page: "Major disturbances follow Britain First Christian patrol in East London. Crowds of Muslims rampage through Brick Lane. Muslim vigilante gangs lock horns with Britain First teams."
The leader of Britain First, Paul Golding, said that around 20-25 activists had marched up Brick Lane, starting from the Whitechapel Road end and given out leaflets. At the upper end of Brick Lane, Golding said they were confronted with a "baying mob of around 150 Muslims."
Golding denied that the march was provocative and said that they were there to protect the local community. After the march, Golding said that the activists returned to south London.
He said the matching clothes the activists wore were not uniforms but "activist jackets" and were worn to distinguish Britain First from the "riff-raff" of the English Defence League who behave like "drunken hooligans". Golding said that the armoured land rover was "not to look macho" but to protect Britain First from attack.
Natasha Daniels said on twitter that she was having a curry on Brick Lane when "some morons with Union Jacks and a tank/car thing came down followed by loads of police." She said that there was not many people involved in the march and most were "hid in the car" which was large and camouflaged.
Many assumed the march was the work of another far-right group, the English Defence League.
Golding said that nobody was injured or arrested and he had not seen any bottles thrown, contrary to reports on twitter.
A previous "Christian patrol" involved Britain First members drinking alcohol and smoking cigarettes to "draw out" Muslims, according to Golding. A video of this incident is shown above. On Monday, Britain First "invaded" the nearby East London mosque, entering, handing out leaflets and arguing with worshippers. After that incident two local Labour MPs, Rushanara Ali and Jim Fitzpatrick, released a statement condemning Britain First.
They said: "Tower Hamlets has a proud history of rejecting those who try to divide us. Last year our community came together to resolutely reject the divisive EDL. These Britain First trouble makers should take heed and recognise their rhetoric is not welcome in Tower Hamlets."