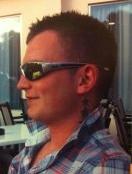 A racist thug downed more than 15 pints and numerous shots before abusing Asian taxi drivers and smashing a taxi window.
When police asked Jamie Takle how he thought the drivers felt about being racially abused, he replied: "To be honest I vote BNP – what does that tell you? They should all go back to their own country."
Takle, of Aldwick Avenue, Hartcliffe, had been so aggressive on the night in question that a police officer had to spray CS gas in his face to arrest him.
The 23-year-old appeared at Bristol Magistrates' Court yesterday to be sentenced after pleading guilty to three counts of racially aggravated harassment, one of racially aggravated criminal damage and one of harassment on December 24 last year.
Paul Ricketts, prosecuting, said Takle had been drinking at several pubs with friends including the Hartcliffe Inn and Three Lions in Bedminster by which time he had consumed nine pints of cider. Later Takle went into town and headed to Antix on Park Street where he continued to down pints and shots, Mr Ricketts said.
"The defendant left the club and walked down Park Street where he flagged down a taxi," he said. "There was then a dispute about a fare and the taxi driver was subjected to racist abuse. The defendant then removed his belt, wrapped it around his fist and punched the side window with the buckle causing it to smash."
Mr Ricketts said a second taxi – in which the occupants were also Asian – witnessed the incident and were also racially abused by Takle.
Mr Ricketts said: "Police arrived a short time later and the defendant made off resulting in a short chase. The defendant still had the belt wrapped around his hand. The defendant moved towards the police officer who deployed CS gas spray and the defendant was arrested.
"In interview the following afternoon he was asked how he thought the victims of his abuse would feel. He replied 'To be honest I vote BNP – what does that tell you? They should all go back to their own country'."
Mr Ricketts added that the first taxi driver was strongly offended and felt he should not have to put up with abuse while he was at work.
John Search, defending, said it was only right that Takle was assessed by the probation service so they could address concerns about his alcohol abuse and racism issues. Takle will be sentenced on March 23. He was released on bail.
Bristol Evening Post, 9 March 2012
The BNP isn't the only far-right organisation that Takle supports. As he reveals on his Facebook page, he is also a member of the English Defence League's Bristol and Gloucestershire Division.