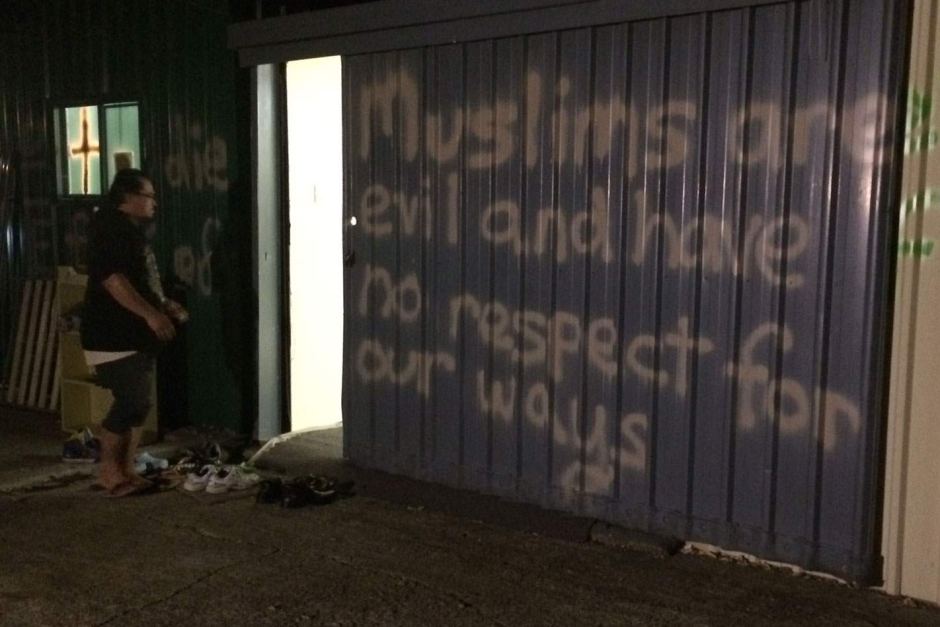 Vandals have spray-painted abusive messages across a mosque in southern Brisbane.
The words "die" and "Muslims are evil and have no respect for our ways" were spray-painted on the Indonesian community mosque at Rocklea. Muslim community leaders and police were alerted to the vandalism on Wednesday evening.
A police forensic team has begun an investigation.
It is the second Muslim prayer site in Queensland to be defaced in less than a week. A mosque at Mareeba in far north Queensland was vandalised last Friday.
Islamic Indonesian Community of Queensland president Hamid Mawardi praised police for their quick response to the attack on the Rocklea mosque. He said he had no idea who had vandalised the mosque but that it was "probably just kids".
"I think this is a misperception about Islam – we are here, Australian," he said. "I've been here for years and we live nice and peacefully and whoever did this – respect us as Australians."
On Wednesday afternoon, Queensland Police Commissioner Ian Stewart called for calm and tolerance in response to growing concerns over the threat posed by the terrorist group Islamic State (IS).
He was speaking after an incident in Melbourne on Tuesday night in which a man who was under investigation was shot dead by police, and after a number of counter-terrorism raids occurred in Sydney and south of Brisbane in recent weeks.
Mr Stewart said he had met with leaders in the Brisbane Muslim community and told them police would go out of their way to ensure their safety.
"Whilst it is our strong view that this [terrorism] is not religiously based or culturally based, the perception may be in some quarters that the Muslim community have some ties to the perpetrators of some of these crimes," he said. "They are simply people who have no respect for any of us or for any particular religion or religious group."
He said police would be hiring four more Muslim police liaison officers to help improve communication with the community.
See also "Rise in attacks against Aussie Muslims", AAP, 24 September 2014
Update:  See "Mosque vandalised: 'Brainless' Brisbane anti-Islam criminals left behind evidence, police say", ABC News, 25 September 2014
Update 2:  See "Mosque vandalism: Police charge man with defacing Islamic prayer centre in Brisbane", ABC News, 26 September 2014