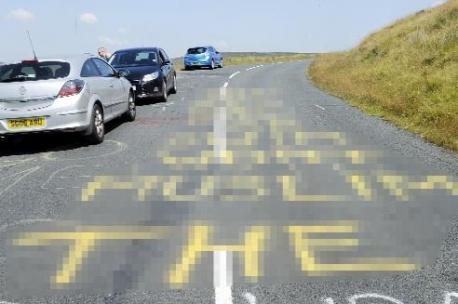 Racist vandals scrawled anti-Islamic graffiti on part of the route used for Bolton's Ironman event.
The words – which were described as "vulgar and racist" – were found on Rivington Road, an area that made up part of the bike route, written alongside messages of support for the Ironman contestants taking part in the race on Sunday, July 20.
Police are now hunting for those responsible for the messages, which included claims "Muslims mutilate the innocent".
The graffiti is believed to have been on the road during the event, one athlete said. Ironman bosses have said they were "shocked" to see the offensive words but stressed it had nothing to do with the competition or anyone taking part.
Kevin Stewart, managing director of Ironman UK, said: "This does come as a shock to us and it is something we hope we don't see again. It is blatantly obvious this is a group who have chosen this as an opportunity to put their opinions forward, but it has nothing to do with Ironman or any of the athletes involved. It needs to be dealt with by the proper authorities."
Thousands of people lined the route to cheer on more than 2,000 people taking part in the gruelling triathlon. Competitors swam 2.4 miles in open water swim at Pennington Flash, before cycling 112 miles through the Lancashire countryside, where the grafitti was painted, and ran a marathon, which finished in Victoria Square.
Lancashire County Council, which manages the highways where the graffiti has been daubed, sent a contractor to remove it over the weekend. Andrew Burrows, Lancashire County Council's highways manager for Chorley, said: "We're disappointed that people would write such vulgar and racist comments on the road during such a popular family event. We have been made aware of the two offensive pieces of graffiti and have arranged for them to be removed."
Bolton Triathlete Eddy Cook said he was "disgusted" when he saw the graffiti. He had visited the road to look at the supportive messages and said the offensive words had appeared between Monday and Wednesday. Mr Cook added: "I think it is disgusting, there were competitors from all over the world taking part in Ironman and this does not help the sport at all. There is no place for this – there is no need to use such a great event to put offensive messages across."
Bolton Council's executive member for the environment, Cllr Nick Peel, said the graffiti should have no bearing on a successful event for Bolton. He added: "This is just a pretty stupid piece of graffiti that has absolutely nothing to do with Ironman, the organisers, athletes or tremendous supporters who made it a brilliant event."
Lancashire's Police and Crime Commissioner, Clive Grunshaw, described the graffiti as a "very concerning incident".
He added: "Lancashire is a diverse community made up of people of different ethnicities, faiths and beliefs and this is something we should all be proud of. However, unfortunately we know that, as a result, incidents of hate crime do occur and this is not something we can shy away from. Here in Lancashire we are committed to bringing an end to offences of this nature and ensuring that everyone is free to live without fear in our communities."
---
The Stop the Astley Bridge Mosque Bolton campaign has posted a link to the Bolton News report on its Facebook page. Here is a selection of the comments: