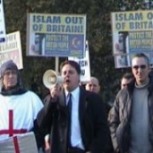 The BNP leader Nick Griffin has described Islam as a "cancer" that should be removed from Europe by "chemotherapy".
In an interview with Channel 4 News, Mr Griffin, who has just been elected to the European Parliament, said there was "no place in Europe for Islam".
He added: "Western values, freedom of speech, democracy and rights for women are incompatible with Islam, which is a cancer eating away at our freedoms and our democracy and rights for our women and something needs to be done about it".
The BNP leader said he agreed with a candidate for the Flemish far right party, Vlaams Belang, who had declared: "We urgently need global chemotherapy against Islam to save civilisation."