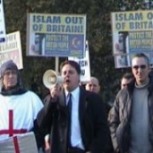 A Muslim leader has urged people not to vote for the BNP in next month's council and European elections and claimed the Islamic community in Basildon has already been threatened by the far right group.
Brother Sarfraz Sarwar, leader of the Basildon Islamic Centre, says members of the British National Party have been deliberately dishing out their pro-election leaflets near to the Vange Community Centre where Muslims hold their Friday prayers.
He also said one member of the local Muslim community was "verbally abused" by the BNP. Brother Sarwar said: "One of our brothers was coming out of prayers when he saw the BNP handing out leaflets. He screwed it up and threw it away and that's when they began hurling racist abuse at him."
Brother Sarwar says the man was threatened with comments such as "We are going to get you" and "your time has come!" He said: "There were four men trying to intimidate him in the street. They were definitely from the BNP. They deliberately targeted us near to our prayer centre.
"I am urging people not to vote for the BNP just because they are fed up with the other parties. A lot of people in our community are worried the BNP could win lots of seats because of the current political climate. They are scared."
Last week the BNP revealed it is to field candidates in all 75 wards in the Essex County Council elections on June 4.
Dr Mohammed Idrees, who is on the board of trustees for Southend Mosque, said: "Racism is not acceptable under any circumstances, but in every society there are disruptive people. Those people who believe those things will always try to advance their views on others, it is up to people what they think."
Emma Colegate, Thurrock councillor for the BNP, said: "We've proven in Basildon we've got a phenomenal amount of support there and we'll let the people make the decision whether they want us in power or not."