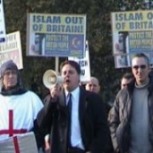 The far right British National Party says it will stage "numerous days of action" over plans to create a new Muslim centre in a Shropshire market town.
Members of the Shropshire branch of the BNP say that they believe the word "mosque" has been deliberately omitted from a recent planning application to convert a former church in Oswestry.
The Oswestry Muslim Society wants to convert a former Presbyterian Church in the town into a Muslim Centre.
North Shropshire organiser of the party Mr Phillip Reddall said: "Our Shropshire branch is planning numerous days of action in Oswestry in the weeks leading up to Christmas. We intend to ensure that local residents are made aware of the plans submitted by Oswestry Muslim Society.
"We will be leafleting the area and speaking to residents and shoppers. We will be encouraging local people to submit objections to these plans via Shropshire Council's online planning register.
"I believe the word 'mosque' has been deliberately omitted from the planning application."
The application, for the building on Oswald Road, which has latterly been used as a furniture store, would include internal alterations.
Creating their own centre would end a 10-year search to find a religious home for the Muslim community in the town. They currently meet at Eastern Oswestry Community Centre for prayers every Friday afternoon and also for major religious festivals such as Ramadan and Eid.
George Miah, chief adviser of Oswestry Muslim Society, said: "For the past 10 years or so we have tried to get a place to worship in the area. It could be a place for sharing viewpoints, cultural differences and understanding people. Our children and female members can get together and invite the community for a cup of tea and to share our views."
The Muslim society has members in Oswestry and Welshpool, St Martins, Llanymynech and Chirk.
Shropshire Council planners hope to determine the bid for the new centre by January 11.
Shropshire Star, 3 December 2012
On its Shropshire Patriot website the BNP urges its supporters to bombard Shropshire Council's planning department with objections to the Oswestry Muslim Society proposal. While stating that the point of its campaign is to resist "the gradual colonisation of Oswestry", the BNP advises that there is "absolutely no point on commenting on religious or ethnic grounds per se" and that "valid comments might include concerns over parking or noise".
Update:   See also "Dismay over BNP's White Tigers defence group plan for Shropshire", Shropshire Star, 3 December 2012