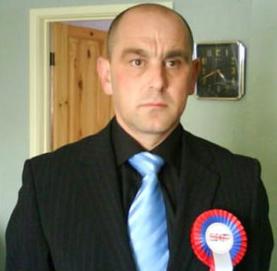 A senior member of the BNP who burned a copy of the Qur'an in his garden has been arrested following an investigation by the Observer. Footage of the burning shows Sion Owens, 40, from south Wales and a candidate for the forthcoming Welsh Assembly elections, soaking the Qur'an in kerosene and setting fire to it.
Superintendent Phil Davies of South Wales police, who led the investigation, said: "We always adopt an extremely robust approach to allegations of this sort and find this sort of intolerance unacceptable in our society."
Owens was arrested within hours of police receiving the video. A second person, believed to have filmed the Qur'an burning, is also in police custody.
Photographs show Owens at a Welsh Defence League demonstration with a group of alleged Nazis including Wayne Baldwin, who has been pictured posing in front of a swastika flag. The Observer has also been passed images that show Owens's face apparently superimposed on Hitler's body.
Owens was officially announced last week as the BNP's number three candidate for the South Wales West constituency of the Welsh assembly.
In 2008 he stood for the BNP in council elections, polling almost a fifth of votes in his ward but finishing last out of three candidates. His campaign posters at the time show him standing on a ticket against "mass immigration, enforced multiculturalism, political correctness".
Update:  See "BNP 'Koran burning' charge dropped", Press Association, 11 April 2011