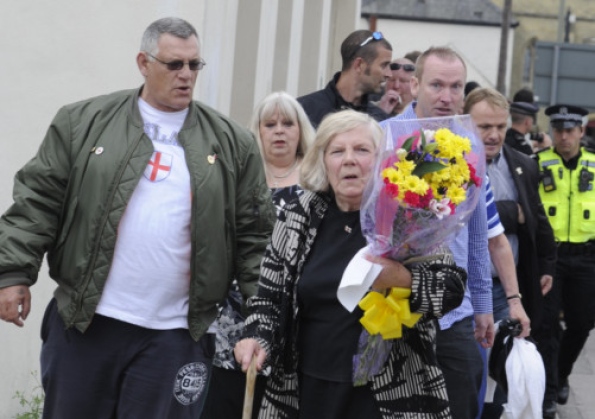 Supporters and anti-racist campaigners turned out at court for the latest hearing in the case of a pensioner who has been ordered to stop sending racist letters in the post.
Margaret Walker who has admitted sending out up to 500 anonymous letters and leaflets filled with vile abuse, has had an interim Asbo order extended until her case goes to a full trial in September.
The order was made at a hearing at Fareham Magistrates' Court last month. Yesterday's hearing was to arrange time for legal arguments and set a trial date.
Between 2007 and June this year the 73-year-old, of Walnut Drive in Fareham, had been sending out the letters to politicians and businesses across the country, relating to an unsolved murder, where she raged against the Jewish and Islamic faiths. Despite a number of requests from police to stop sending the anonymous letters, and a criminal investigation, she continued.
Prosecutor Louise Ravenscroft said: "We aren't saying Mrs Walker shouldn't be allowed to send letters or have political views, whatever they may be, but it is how she expresses them. It is not an abuse of her right of freedom of speech so long as it doesn't cause harassment, alarm or distress, which is a criminal offence."
Laura Jenking-Rees, defending, said: "She says she was only sending out literature to interested parties, or parties she perceived to be interested in the case. She doesn't dispute sending the letters, what she disputes is the effect it had on the recipient – whether it caused harassment, alarm or distress."
About 20 supporters from ProFam – a nationalist group – raised three cheers for the grandmother and gave her a large bouquet of flowers as she left court. A similar sized group of protesters also shouted "racist" at her. Several police officers were present during the demonstrations. No arrests were made.
The Asbo bans her from posting anything that contains words or pictures that are foul and abusive or likely to cause harassment, alarm or distress. She is also banned from sending anything in the post unless her name, and return address are clearly marked. Hampshire police is seeking to obtain a two year Asbo for Walker.
BNP leader Nick Griffin has spoken in support of Walker and promoted the "flash demo" for her at the court on Twitter.
ProFam, the group that held the demonstration to support Walker, is a BNP front organisation headed by party activist Lynne Mozar. The court protest was also backed by the English Defence League's football hooligan section, Casuals United.

Lynne Mozar addresses meeting in support of Margaret Walker (right)