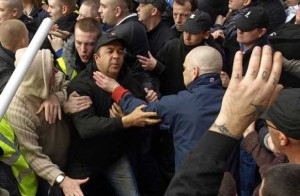 Protests by the English Defence League and opposing groups in Blackburn led to 12 arrests in a major police operation.
About 2,000 EDL supporters gathered for their protest near King George's Hall on Northgate, according to police. Opposing protesters, who were kept about 150m (490ft) away, said their gathering was a celebration of multi-culturalism.
The 12 arrests made during the day included a 48-year-old man, from Blackburn, who was arrested on suspicion of assaulting a police officer. Others were arrested on suspicion of offences including breach of the peace, affray, being drunk and disorderly and using threatening words or behaviour.
Skirmishes broke out among supporters during the EDL rally, despite an appeal for a peaceful event from the organisers. One man was punched to the floor, while coins and a pint glass were thrown. EDL spokesman Tony Curtis blamed the fracas on a more extreme splinter group. A small group of EDL supporters also broke away from the main demonstration area and were quickly brought under control by police, the force said.
Update:  See Unite Against Fascism, 2 April 2011