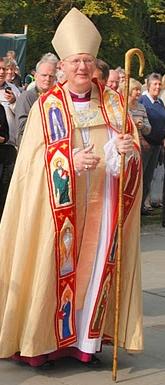 The Bishop of St Albans spoke of the need to "stand firm" against racism in society. The Rt Rev Dr Alan Smith used his Christmas sermon in St Albans Cathedral to warn against "destructive powers which try to divide communities, races and religions".
He acknowledged "hatred and unrest" could be found within Britain, using the example of the controversial marches undertaken by far-right group the English Defence League (EDL), which provoked clashes in town and cities during the year.
He said: "But hatred and unrest is not just found in far away places. In the past year we have seen racist marches on our streets in London and Bolton, in Dudley and Peterborough, in Aylesbury and Bradford, led by individuals who want to stir up unrest.
"Even as I speak, demonstrations are being planned in Luton in six weeks' time which could seriously undermine community relations. Some people are even trying to commandeer Christianity to support their cause."