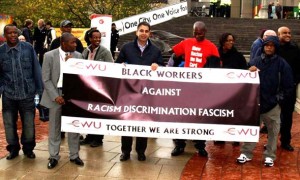 Members of the English Defence League were reduced to infighting and throwing fireworks and bottles in Birmingham today after a particularly poor turnout on the organisation's latest national demo.
The EDL demo, billed as the last "Big one" of 2011, drew only around 300 people, despite a mobilisation from across the country and demoralisation was evident among the racists and fascists.
Meanwhile, up to 1,000 people – overwhelmingly from Birmingham itself – attended a unity "Love the difference" event opposing the EDL during the afternoon. The anti-EDL protest was organised by UAF and local trade union branches, faith groups and community organisations.
The antiracist event, held in the city centre's main Chamberlain Square, heard speakers including Tariq Jahan, whose son was tragically killed during the riots, and representatives of faith groups from across multiracial, multicultural Birmingham.
Legendary Birmingham-based reggae band UB40 also sent a message of support.
Members of the CWU's black workers section held up their own conference in the city in order to come and show their support for the anti-EDL protest.
UAF national officer Martin Smith told the antiracist demonstrators that it was important to counter the racists and fascists. It was dangerous to hide away, thinking the EDL could safely be ignored. Instead, people should stand up to the racists and fascists – with last month's brilliant anti-EDLdemo in Tower Hamlets showing the way forward, he said.
The city centre event continued until the few hundred EDL supporters were put onto buses out of Birmingham by police. And local people and antiracists in the Alum Rock area of the city quickly made it clear that any EDL thugs who attempted to gather there were not welcome.
Unite Against Fascism news report, 29 October 2011
Update:  See also "Birmingham demo report", EDL News, 30 October 2011