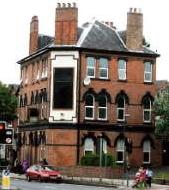 A group of Muslims is seeking permission to continue to worship in a former pub.
The Jamiat Ahle Hadith group was given permission to use the old Le Grand pub as a temporary mosque in November 2007. The permission, which allowed the group to worship there and use it as a learning centre, was originally granted for just 12 months. Now the group is applying to permanently use the pub at the corner of Alfreton Road and Gregory Boulevard, between Hyson Green and Radford, as a place of worship.
A decision is expected to be made when the city council's development control committee meets at the Council House on Wednesday at 2.30pm. Council planners have recommended the request to change the use of the pub to a centre of worship be approved.
This is Nottingham, 16 January 2009
---
The BNP reports this as "The colonisation of Britain by Islam: Another pub to be converted into mosque". According to the fascists:
"This is how the colonisation process works: first, large numbers of immigrants settle in an area, and then apply for 'temporary' permission to create an 'Islamic Information Centre' or even a 'temporary Mosque'. The large number of immigrants drawn to such centres then ensures that indigenous British people flee the area. This then opens the way for a justification of the 'temporary' permission to be made permanent because it 'fulfils the needs of the local community'."