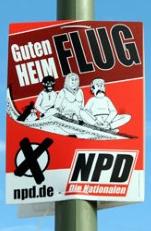 A Berlin court ruled Wednesday that campaign posters for the far-right National Democratic Party with the slogan "step on the gas" may remain on display.
The placard is one of several the far-right party is using in an effort to attract votes for upcoming Berlin state elections. One shows caricatures of Muslim immigrants on a flying carpet with the slogan "have a nice flight home." Another bears the slogan "step on the gas," with a picture of the party's leader on a motorcycle.
Berlin's Kreuzberg district had ordered the posters taken down, saying they violated German incitement laws. But the Berlin state court ruled Wednesday that the posters were protected under freedom of speech laws. It noted that although the "step on the gas" poster "could well be intended to arouse associations with Nazi atrocities," it could also have other meanings.