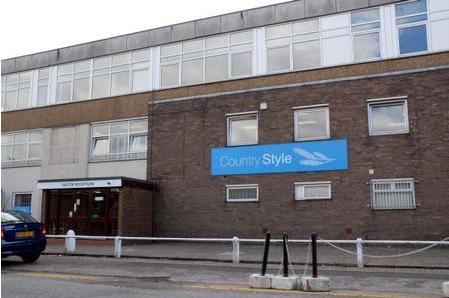 A Grimsby bakery – found to have discriminated against a headscarf-wearing Muslim woman on religious grounds – is asking top judges to block a similar case being brought by her husband.
Country Style Foods Limited was ordered to pay Latvian-born Anastasija Bouzir about £7,000 in compensation following an employment tribunal's ruling that it failed to offer her a job at its bread factory in Wickham Road, after she wore a Muslim headscarf to her interview.
The tribunal rejected the race discrimination claims of Mrs Bouzir's husband, Noureddine – who claimed he was turned down for a similar job because of his Algerian origins – but the Employment Appeal Tribunal (EAT) later granted him another hearing.
The food company, whose headquarters are in Leeds and which operates five plants around the UK, is now challenging that decision in London's Appeal Court, insisting it employs workers from many different countries and cultures and in no way discriminated against Mr Bouzir.
In its ruling, the EAT set out how Mr Bouzir and his wife, who both live in Grimsby and have experience in the food industry, applied for jobs at the bakery in 2009, when about 30 positions were vacant.
When interviewed, Algerian-born Mr Bouzir's marriage certificate and national insurance card – both of which were later agreed to be valid – were questioned and his interview was discontinued.
After agreeing she would remove her headscarf at work for hygiene reasons, Islamic convert Mrs Bouzir was initially told of an induction day at the bakery, but was later informed her job application was unsuccessful.
An employment tribunal in Hull last year found Mrs Bouzir had suffered religious discrimination on the basis there was no other reason for her not being invited to the induction day.
In its ruling, it stated: "The tribunal can only conclude that, in the case of Mrs Bouzir, the reason was her Muslim religion which was clearly evidenced by her attendance at the interview wearing a headscarf."
But the tribunal ruled there was no evidence to support her husband's claims that he was the victim of race discrimination, finding that, although it did not employ any Algerians at the time, the bakery has workers of many different nationalities.
Earlier this year, Mr Bouzir appealed that decision at the EAT, which allowed his challenge and directed another employment tribunal to re-examine his claims.
EAT judge Simon Richardson said at the time: "Taken together, the points in Mr Bouzir's case … plainly amount to material from which the tribunal could conclude, in the absence of an adequate explanation, that the respondent refused or deliberately omitted to offer him employment on racial grounds."
Lawyers for Country Style Foods have now appeared before three senior judges at the Appeal Court in London, arguing the original tribunal decision to dismiss Mr Bouzir's race discrimination claim was correct and should now be reinstated.
Lord Justice Mummery, sitting with Lords Justice Richards and Rimer, have now reserved their judgement in the case and will give their ruling at an unspecified date in the future.