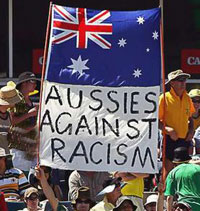 Thousands of Australians in Sydney and Newcastle rallied on Sunday, December 18, against racism after a week of violence against Arabs and Muslims.
About 2,000 people have marched through the streets of Sydney's central business district calling for racial harmony and understanding, Australia's Sydney Morning Herald newspaper reported.
Unite Against Racism Rally organiser and National Union of Students (NUS) anti-racism officer, Osmond Chiu, said today was about uniting in opposition to a racist Australia. "The riots have drawn attention to the racism in this country," Chiu told the paper. "I am shocked and appalled by what's been happening, I never fathomed anything of this scale, that such violent racist clashes, could happen here."
Chiu condemned some media and political leaders who he said may have fuelled the riots. He was particularly critical of Macquarie Radio for "spreading word about the wave of text messages this week that urged further race-based attacks."
The rampage began when more than 5,000 people gathered at Sydney's Cronulla beach last Sunday, December 11, after e-mail and mobile phone messages called on local residents to beat-up "Lebs and wogs" – racial slurs for people of Lebanese and Middle Eastern origin. They moved after Lebanese youths had beaten a beach guard for reportedly snatching the hijab of a beachgoer.
Chiu also called on Prime Minister John Howard to admit the existence of racism in Australia. "John Howard, the leader of our country, has denied that racism played a part in the week's violence," he said. "He needs to admit that racism played a big part in what happened."
Islam Online, 18 December 2005 
See also "Rally cry: 'We are all Australians'", Sydney Morning Herald, 18 December 2005