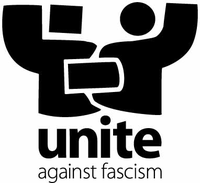 In the latest attack on muslims since the murder of Lee Rigby in May, a mosque and Islamic centre in Harlow, Essex has been subjected to an attempted arson attack.
Attackers sprayed insulation foam around the doors and windows before setting it alight, fortunately the fire did not spread and no one was injured. Mosque leaders have blamed anti-muslim prejudice for the attack. This latest serious assault on the muslim community comes as the racist EDL prepares to march in Tower Hamlets, East London.
Since May, there has been an upsurge of violent attacks against muslim communities. In June, a Muswell Hill mosque and community centre was burnt to the ground and 'EDL' was found painted on the walls. In July, three mosques in the West Midlands were subjected to bomb attacks shortly before the fascists mobilised several hundred in Birmingham. Wherever the EDL go attacks on Muslims and other communities occur.
Essex UAF have called a public meeting this thursday (29/8) in response to the shameful arson attack on Harlow Islamic Centre.
A spokesperson for Essex UAF said:  "We are determined to stand in solidarity with Harlow's muslim community as we understand that an attack on one of us is an attack on all of us. We will not let the racists thugs of the far right divide our community."
Essex UAF Emergency Meeting:
7:30pm, Thursday 29 August
Gibson Court Common Room,
Bishopsfield,
Harlow CM18 6FF
Speakers include UAF joint national secretary Weyman Bennett.
Contact: harlowuaf@gmail.com
UAF released a "Don't let the racists divide us" statement and appeal in May. It can be signed here.