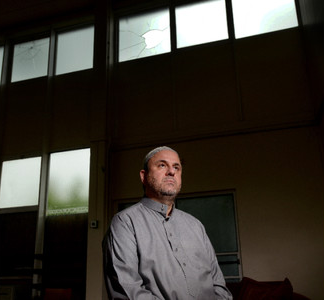 Community leaders have condemned an attack on a Grimsby mosque in the wake of the murder of a soldier in London.
In a united front against apparently racially-motivated vandals, church leaders, police chiefs and council leaders today said the behaviour of a gang of drunken youths was "disgusting and unacceptable".
Muslim leaders were less than a metre away from where bricks landed inside their mosque – which had been lobbed by teenagers at the windows of the building, at the junction of Weelsby Road and Legsby Avenue, shortly after 11pm on Thursday. It is believed that an end-of-term house party escalated into a backlash against the murder of drummer Lee Rigby, in Woolwich.
Cars were also damaged and bins were overturned, and Humberside Police arrested 11 teenagers, aged between 16 and 17.
Welcoming community leaders to the mosque, the Imam, Dr Ahmad M Sabik, said: "We should not feel guilty about what happened in Woolwich – it is nothing to do with Islam. There is no way that Islam could allow this crime in London. If they call themselves Muslim, it has nothing to do with Islam."
Chairman Diler Gharib, on behalf of the Islamic Association of South Humberside and Grimsby, said the murder in Woolwich was "sadistic" and "inhumane", and he called upon all faiths to stand together. He said: "We condemn this callous act which has no basis in Islam, that preaches peace, tolerance, mutual respect and harmonious coexistence among all world communities."
Neighbourhood Policing Chief Insp Will Jenkins said the investigation into the incident in Grimsby will consider if whether the mosque was targeted for racial reasons. He warned that parents could end up paying for the damage caused, adding: "We will not tolerate this type of behaviour. We will take positive action against anyone found to be responsible during such incidents. It is wrong that a number of residents and the local mosque will be left somewhat distressed and out of pocket following the actions of a group of teenagers that shouldn't have been drinking in the first place."
One Legsby Avenue resident said she saw 25 youths in the street at about 11.30pm. She said: "They were chanting things like 'we know where you are, we are coming to get you'. There was some abuse and they were running down the avenue. It was very scary."
Neighbour Paul Shreeve, 77, said: "We have lived here for 54 years and we have never seen or heard anything like this."
North East Lincolnshire Council's leader Chris Shaw said: "I deplore this disgusting and unacceptable behaviour."
On Monday, former soldier Liam Ladds, 25, and 300 supporters will march from Grimsby Cenotaph to Cleethorpes Cenotaph in memory of Lee Rigby.