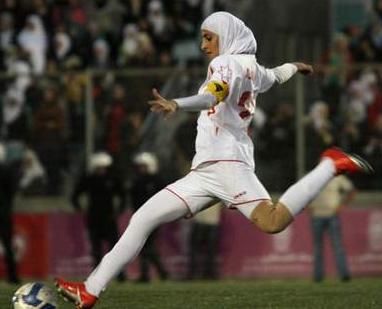 Asia's football chief on Monday urged the game's top law-making body to lift a controversial ban on headscarves, saying new designs can prevent neck injuries to Muslim women players.
"Many women footballers in Asia wear headscarves," Asian Football Confederation acting president Zhang Jilong said ahead of a March 3 meeting of the International Football Association Board (IFAB) to review the ruling.
"I would like to request the IFAB to favourably consider FIFA's proposal and review the rule and allow women players to play wearing a safe headscarf that covers the neck," Zhang said in a statement. "My colleagues in the AFC Executive Committee strongly support the idea of reviewing the rule and I think it is in the interests of women's football worldwide."
IFAB, formed in 1886, discusses and decides on proposed alterations to the laws of football. The body comprises four members from FIFA and four from British associations.
FIFA banned the hijab, or headscarf, in 2007 and has extended the safety rule to include neck warmers.
Several new designs of headscarves are now available, Zhang said. "I have personally seen the new designs with a velcro joined at the neck which releases if the headscarf is pulled, ensuring the player's safety."
For the background to the forthcoming IFAB ruling, see here and here.
See also "I'm not impressed by the politics, says FIFA's youngest executive member Prince Ali", Inside World Football, 30 January 2012