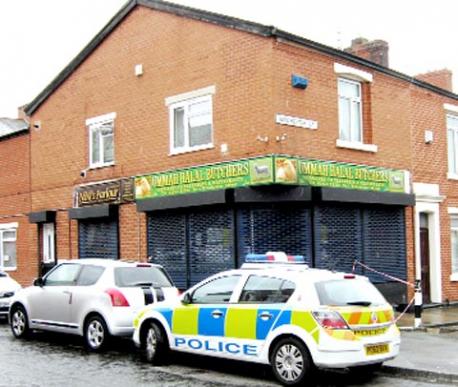 The owner of a halal butchers said people sleeping in the flat upstairs were lucky to survive after suspected arsonists set fire to his shop.
Police were yesterday investigating the cause of a fire at Ummah Halal Butchers in Queen's Park Road, Blackburn.
Firefighters were called to the scene at 3am yesterday and when they arrived they found smoke coming from the front door and a fire inside. Six people in the flat above the shop, including two children, managed to get out unharmed after a passer-by saw the fire and alerted the fire service.
The owner of the butchers said petrol had been poured on the front door and set alight. He said: "There were two children, two men and two women sleeping upstairs at the time. It could have been much worse for them. They could have died. The fire spread in a minute but luckily someone was passing and helped get them out."
The shop owner said it was worrying that the incident had happened in the area. He said: "It is the first time we have had problems here. We will be looking to increase our security systems to stop this happening again."
Crew manager Lee Cook said: "The property had CCTV and it looks as though it was a deliberate act. It seems somebody used an accelerant on the front door."