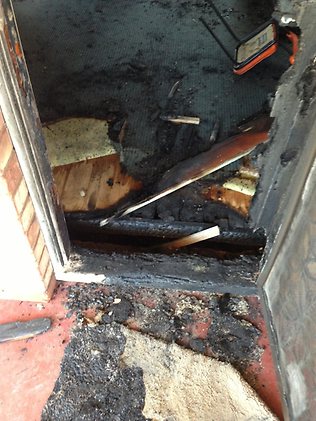 Whyalla's Muslim community has been praying outside in stifling temperatures above 40C after fires damaged their mosque.
The fires, which started about 4am on Thursday, are being treated as suspicious. A spokesman for the community, Hasan Aziz, said he believes the attack was a "hate crime".
"The way it's been carried out tells us that it's a targeted crime, a hate crime," he said. "In a town like Whyalla, of all the places, it's very unlikely for such an act to be carried out. There's been no problems in the past."
The blaze caused smoke damage inside the Morris Crescent mosque after fires were lit at the front and back door of the property. "The front and the back doors have been burnt totally," Mr Aziz said. "They put petrol on both of them and they lit it on fire."
Mr Aziz said that the community, which meets twice a day at the mosque, has been forced to pray outside in searing temperatures. "It's pretty bad. We can't carry out any of the prayers, so we've had to do it outside," he said.
The building was insured. A police spokesman said the fire caused minimal damage but appeared to be suspicious. Local Crime Investigation Branch detectives are investigating.