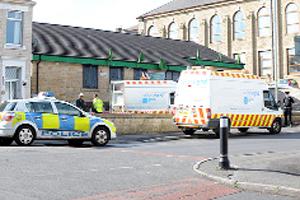 Four blazes were started in Accrington today (13 July) in an arson spree which spread to a mosque.
Firefighters tackled the most serious fire at the Faizane Madina Mosque in Richmond Road after flames from a nearby shed containing three gas cylinders spread.
Dozens of firefighters from Great Harwood and Haslingden raced to the scene at just before 3.30am as crews from Accrington Fire Station were busy fighting another arson blaze in Fairfield Street.
The fire began to spread to the place of worship as crews fought to keep the propane gas cylinders cool with jets of water. Crews remained at the scene for more than four hours battling the blaze and the people living closest to the mosque had to be evacuated from their home.
And as firefighters began to breathe a "sigh of relief", believing they had the situation under control, a mains gas pipe leading to the mosque ruptured. Engineers from the National Grid were called to the area and it was cordoned off immediately as they tried to bring the leak under control. The mosque suffered damage to its wall, roof and windows.
Nabeela Kashif, who lives next door, said she saw black smoke pouring in through her bathroom window. The 40-year-old, who was evacuated with her husband, Kashif, 39, and their five-year-old son, Ibrahim, said: "I woke up after I heard a noise and when I looked out of the window we saw a huge fire. It was a really scary experience and the firefighters told us all to leave the house."
Update:  Expose has a screenshot of EDL members' responses to the attack.