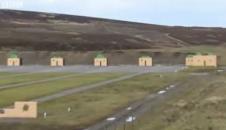 A Muslim group has demanded an apology from the British Army after it emerged that replica mosques were being used on a North Yorkshire firing range.
The chairman of the Bradford Council for Mosques (BCM) said the structures at Catterick should be taken down immediately. The Ministry of Defence said it had "no intention" of causing offence.
The BMC said it was particularly angry as it had been assisting the army in its efforts to recruit more Muslims.
Saleem Khan, the chief executive of the BCM, called for the Army to apologise. "The first thing they need to do is remove this straight away," he said. "They do owe apologies to the Muslim community and it is the mind set which needs changing."
There are seven of the structures on the range at Bellerby, which have green domed roofs. Ishtiaq Ahmed of the BCM said that they were undoubtedly meant to resemble mosques.
"The shape of the structures, the colour of the dome – the green dome – symbolises an Islamic place of worship," he said. "Anyone looking at it will think about mosques and Muslims and think about them negatively."
He accused the Army of reinforcing negative perceptions of Muslims. "What angers me very much is that we are conditioning the young British to say that mosques are a place where you are going to find danger and a place to target," Mr Ahmed said. "That is really disturbing."
See also MCB press release, 8 April 2010