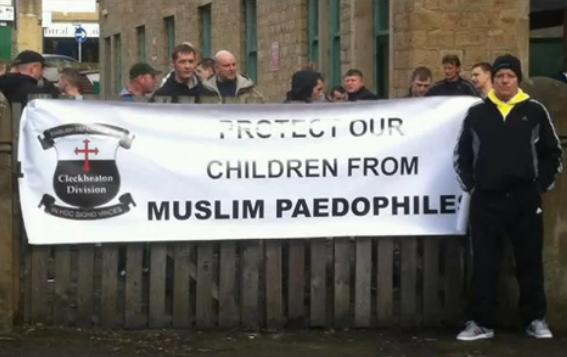 Police in Kirklees are appealing for information from the public after a series of incidents in Cleckheaton, Heckmondwike and Dewsbury that followed an English Defence League (EDL) demonstration on Saturday in Cleckheaton.
At 1pm on Saturday around 60 members of the EDL took part in a peaceful, pre-planned demonstration in Cleckheaton Town centre. The demonstration, something that the police had been fully notified about, ended without incident at 3pm and the group dispersed.
Shortly afterwards the police responded to reports that the window of the Co-Op in Heckmondwike had been smashed. Two men from Bradford, a 32-year old and a 20-year old were arrested at the time and are currently on bail pending further enquiries.
At 4pm the police received reports of disorder in Dewsbury Town centre. A group of men in Corporation Street, near to Pizza Go-Go, had abused and assaulted a 35-year old Asian man, knocking him the floor and leaving him with a black eye and bruising to his ribs. The suspects then moved onto Northgate and Westgate. The 35-year old was taken to hospital and released the next day.
As the investigation into both incidents continues, Superintendent David Lunn of Kirklees police said: "We know that following the demonstration in Cleckheaton a number of men, purporting to be members of the EDL turned up at various location across Kirklees, displaying posters and flags and shouting abuse at members of the public. We have had a shop front damaged in Heckmondwike and the serious incident of the assault on the 35-year old man in Dewsbury Town centre.
"These incidents cause fear and concern for innocent members of the public caught up in them and the Police simply will not tolerate such behaviour. Whilst arrests were made for the damage offence, I am appealing for anyone with any information that could help us identify further suspects for the assault and disorder in Dewsbury to contact us.
"If people have mobile phone footage of racist chanting, damage, or assaults taking place anywhere in Kirklees on Saturday, I would appeal for those people to contact us as the information they have could help us greatly with our enquiries."
Anyone who thinks that they can help with this investigation is asked to contact Dewsbury CID via 101 or Crimestoppers, anonymously, on 0800 555 111.