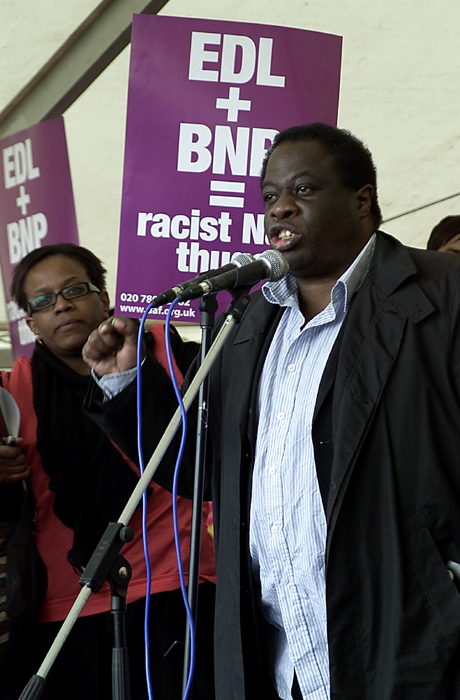 Over 1,000 people gathered in Dudley town centre on Saturday to attend Unite Against Fascism's "One Dudley Many Cultures" carnival against racism. The event was set up to celebrate Dudley's multi-racial society and oppose the presence of the racist English Defence League who had threatened to descend on the town for an anti-Muslim rally that day.
The UAF event was a great success, featuring speakers including the Bishop of Dudley, local Muslim activists, trade unionists and anti-racists. People from all Dudley's communities attended, together with people from around the country who had come to show their solidarity with Dudley's Muslim population and their opposition to the EDL's thugs and bigots.
In contrast, the EDL were marched to a disused car park on the edge of town. There were several violent clashes as they attempted to break through police lines to run riot through the town. Witnesses describe hearing several vile anti-Muslim chants from the EDL, including: "If you build your f—king mosque, we'll burn it down."
Sabby Dhalu, joint secretary of UAF, said: "Today's events in Dudley showed the real face of the EDL. They are a group of organised fascist football hooligans looking for trouble, who broke past heavily policed lines. This was is in contrast to the peaceful celebration organised by UAF, the Dudley Borough Interfaith Network and local communities.
"The EDL were trying to provoke a reaction. They didn't get one. Over a hundred of them were contained by riot police in the vicinity of the UAF event in order to prevent them from attacking people leaving the antifascist rally. It is high time these fascist demonstrations were banned, and if the law prevents that then the goverment must take action to introduce new legislation."
Weyman Bennett, joint secretary of UAF, said: "Today was a success for anti-racists and anti-fascists. The EDL were forced to huddle in a car park on the edge of town. They showed their true colours when they unsuccessfully tried to break out and run riot. In contrast UAF and local anti-racist groups mounted a powerful show of unity against the EDL and their friends in the Nazi BNP.
"The policing of today's events in Dudley stands in sharp contrast to tactics used in Bolton two weeks ago. There the police marched the EDL into the centre of town and attacked the anti-racist protest. In Dudley the EDL were not allowed into the town centre and the anti-racist protest was allowed to go ahead unmolested. The authorities should take note when policing future such events."
UAF press release, 3 April 2010
Update:  See also Birmingham Mail, 4 April 2010