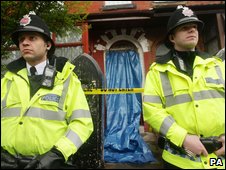 A lawyer representing three Pakistani students detained for 13 days then released without charge has said it is the worst case of its kind since new legislation extended detention periods in 2000.
Mohammed Ayub lambasted the government on Friday for its treatment of his clients who were detained after high-profile police raids in the north-west last month and then released without charge.
The men were subsequently redetained pending possible deportation to Pakistan where, he argued, their safety was not certain.
Referring to the Home Office figures on the poor conviction rate in terror cases in general, he said: "It signifies that the security services are acting on poor or misleading intelligence and the continuation of such operations is likely to lead to a lack of public confidence in the security services."
Mr Ayub, from Chambers Solicitors in Bradford, also said that he had concerns over the report into the operation which led to his clients' arrests being compiled by Lord Carlile, the government's independent reviewer of terror legislation.
"We call for an independent inquiry into Operation Pathway, so that lessons can be learned as to how this investigation could have got it so terribly wrong and so that no other innocent person should have to face the continuing ordeal that our clients are suffering."